This page conforms to the XHTML standard and uses style sheets. If your browser doesn't support these, you may not see the page as designed, but all the text is still accessible to you.
You are here: Home » Resources » Pearson's History » Six Nations Map 1771
Go back to: Illustrations
[This information is from pp. 432-433 of A History of the Schenectady Patent in the Dutch and English Times; being contributions toward a history of the lower Mohawk Valley by Jonathan Pearson, A. M. and others, edited by J. W. MacMurray, A. M., U. S. A. (Albany, NY: J. Munsell's Sons, Printers, 1883). It is in the Schenectady Collection of the Schenectady County Public Library at Schdy R 974.744 P36, and copies are also available for borrowing.]
[Copies of this book are available from the Schenectady County Historical Society.]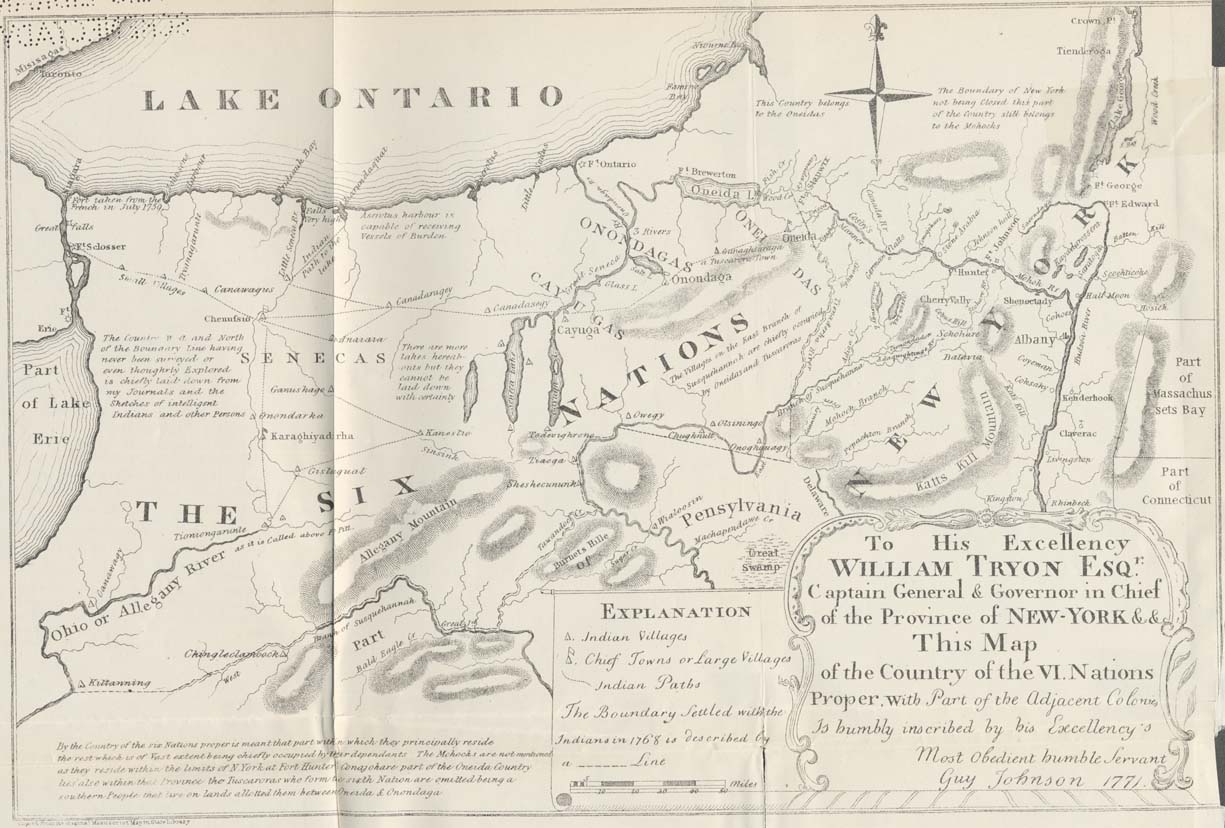 [View 4x enlarged version (450K)]
[The map extends from Crown Point in the north to Rhinebeck in the southeast. The border between Lake Erie and Lake Ontario shows Fort Schlosser and Fort Erie. West of Lake George reads, "The Boundary of New York not being Closed this part of the Country still belongs to the Mohocks" with "Part of Massachusetts Bay" and "Part of Connecticut" on the right side.]
Map text in lower right corner: "To His Excellency William Tryon Esqr. Captain General & Governor in Chief of the Province of New-York &&c. This Map of the Country of the VI. Nations Proper with Part of the Adjacent Colonies Is humbly inscribed by his Excellency's Most Obedient humble Servant Guy Johnson 1771."
Map text in the lower left corner: "By the Country of the six Nations proper is meant that part within which they principally reside the rest which is of Vast extent being chiefly occupied by their descendants. The Mohocks are not mentioned as they reside within the limits of N. York at Fort Hunter. Canajohare part of the Oneida Country also lies within that Province. the Tuscaroras who form the sixth Nation are omitted being a southern People that live on lands allotted to them between Oneida & Onondaga."
East of Lake Erie: "The Country West and North of the Boundary Line never having been surveyed or even thoughrly Explored is chiefly laid down from my Journals and the Sketches of Intelligent Indians and other Persons."
West of Finger Lakes: "There are more lakes hereabouts but they cannot be laid down with certainty."
Along the shore of Lake Ontario: "Aserotus harbour is capable of receiving Vessels of Burden."
Bottom left corner: "Copied from the original Manuscript Map in State Library"
Go to top of page | back to: Illustrations
You are here: Home » Resources » Pearson's History » Six Nations Map 1771
http://www.schenectadyhistory.org/resources/patent/six_nations_map.html updated March 30, 2015
Copyright 2015 Schenectady Digital History Archive — a service of the Schenectady County Public Library