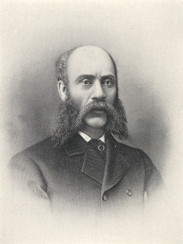 Portrait: Captain Andrew J. Vanderpoel
[View enlarged]
Captain Andrew J. Vanderpoel, dealer in ice, a highly respected citizen of New Baltimore, N. Y., was born in this town on May 7, 1838, his parents being Andrew and Jane (Van Slyke) Vanderpoel. His grandfather, also named Andrew, was a native of Columbia County. He spent his life there engaged in farming, and died there at the age of fifty-eight. His wife, whose maiden name was Elizabeth Smith, was born in Connecticut. None of their seven children are living. Her death occurred at the age of seventy-eight. She was a member of the Methodist Episcopal church, and had a brother who was an Elder in that church.
Andrew Vanderpoel, the second, father of the subject of this sketch, came to New Baltimore when a young man, purchased a farm here, and subsequently engaged in farming until about the age of sixty years when he retired and moved to New Baltimore village, and at the age of seventy-nine he died. He was a Deacon in the Dutch Reformed church and for many years an Elder. In politics he was first a Whig and later a Republican. He was a man of sound judgment, and his advice and counsel were sought by many. His wife, Jane, was born in this place; and was a daughter of Tunis Van Slyke, a farmer and large land-owner. She was one of a family of eight children. Of the six born to her, four are living, namely: Tunis, who resides in New Baltimore; Andrew J.; Peter, who is in Massachusetts; and Mrs. Alida Mead of this town. The mother died at the age of ninety years.
Captain Vanderpoel in his boyhood attended the district school, and at the age of twenty studied for a time in Claverick Institute. He began his working life on his father's farm, and subsequently went into business, forming a partnership with a Mr. Smith under the firm name of Smith & Vanderpoel, and for six years carrying on a general merchandise store. At the end of that time he disposed of his interest in the business to Mr. Holmes. A little later he started a coal yard in New Baltimore, also entered the ice business, also ran boats to New York. He then bought back his interest in the store from Mr. Holmes, retaining it until 1880, when he sold it to Mr. Nelson. During the next six years he was captain of the "City of Hudson," the day boat which ran from Catskill to Albany. While occupying this position he removed his family to Catskill, where he continued to reside until 1887, when he returned to this town. After he left off running the "City of Hudson," he was engaged in the transportation of freight to New York, but in 1897 his dock buildings burned, and he discontinued the freight trade. Since then he has carried on an ice business, housing twenty-six thousand tons of ice a year and disbursing it in large quantities in New York at wholesale. In 1890 the Captain bought his present beautiful estate, which is a fine farm devoted principally to fruit orchards. It is known as the Dr. Cornell homestead, and overlooks the gliding Hudson.
Captain Vanderpoel has been twice married, the first time, in 1869, to Elizabeth Randall, and the second time in 1882 to Ella Jennings. The first Mrs. Vanderpoel was a Nova Scotian by birth. She died at the age of thirty-nine, having been the mother of five children, namely Weston R. and Frank, who are in California; Martha and Margaret who are in New Jersey, and Andrew, also in California. The second Mrs. Vanderpoel was born near Durham. Her father, Daniel D. Jennings, was a well-known hotel-keeper in his native town of Cairo. He died when his daughter Ella was a young girl. His second wife, Eleanor Souser, a descendant of the noted Salisbury family which came from England, was born in Jefferson in the town of Catskill. She bore him four children, of whom there are living: Peter, of New York; Irving, a Catskill lawyer and bank president; and Mrs. Vanderpoel. Captain and Mrs. Vanderpoel have one child, Peter Jennings, now eleven years of age. They lost two little sons — John Benham, at two years of age; and Worthington, who died an infant.
The Captain is a Republican; but he refuses to accept nomination for public office, though frequently asked to do so. He is a Mason, being formerly associated with Ark Lodge of Coxsackie and at present a member of Social Friendship Lodge of New Baltimore. Of the latter he is a charter member, one of three, and since its organization has been treasurer of the lodge. Mrs. Vanderpoel is a member of the Dutch Reformed Church of Catskill.