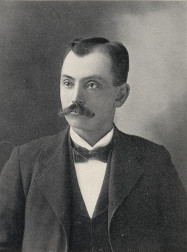 Portrait: Albert L. Kerr
[View enlarged]
Albert L. Kerr, general merchant and Postmaster at Haines Falls, N. Y., was born in this village, September 18, 1862. He is the son of Robert and Margaret A. (Haines) Kerr. His father was born at Tannersville, and his mother was born at Haines Falls. His paternal grandfather, George Kerr, who was a native of Ireland, came to America at the age of fourteen, and later settled in Tannersville, where he followed farming. George Kerr died at the age of sixty.
Robert Kerr, father of Albert L., engaged in agricultural pursuits in this section when a young man, and before the advent of railroads ran a stage-coach to Catskill. Since 1891 he has resided here summers, and spent his winters in New York City. He is now engaged in selling Christmas trees, cutting and shipping them to the metropolis, where they find a ready market. In politics he is a Republican. His wife, Margaret A., daughter of Peter B. Haines, formerly of this village, is a descendant of John Haines, who went from Staten Island to Putnam County, New York, where he died in 1771. Elijah Haines, son of John, moved from Putnam County to Greene County about the year 1779, as a pioneer, and spent the rest of his life here; and her grandfather, Edward, who was born in Greene County, New York, became a prosperous farmer in this county. Peter B. Haines, father of Mrs. Kerr, erected the first dwelling on the site of the Catskill Mountain House. He followed farming. He also carried on a saw-mill, and was a useful citizen. He had a family of ten children. Robert and Margaret A. Kerr have two children: Gertrude, who married Cornelius H. Legg, of Haines Corners; and Albert L., the subject of this sketch. The parents were members of the Methodist Episcopal church.
Albert L. Kerr attended the common schools. At the age of twenty he took a clerkship in the post-office in this place, and later went to Tannersville, where he occupied the same position in the post-office under Mr. Mulford for three months (the fall season). In 1888 he engaged in general mercantile business on his own account at Haines Falls; and, the post-office having been removed to his store, he acted as Postmaster thirteen months. He then purchased the building in which he is now located. In 1898 he was appointed Postmaster, and in order to more conveniently handle the business, which is largely increased during the summer, he erected a special post-office building adjoining his store. This office transacts a large money order business, has eight mails per day, averaging five sacks of first-class matter and three of papers; and there are two regular mails on Sunday.
In 1888 Mr. Kerr married Belle B. Brewer, daughter of Nathan and Mary (Williams) Brewer, of this town. Her grandfather, Samuel Brewer, was born in Connecticut. Her father was a prosperous farmer here, dying at the age of seventy; and her mother, who was born in Colchester, N. Y., daughter of Thomas Williams, died at the age of forty-three. Nathan and Mary Brewer had four children — Charlotte, Belle B., Scott, and Mott. Charlotte married Norman Kerr. Mr. and Mrs. Albert L. Kerr have had four children, two of whom are living: Louis A.; and Harold Maine, who was born February 15, 1898, a day made memorable by the blowing up of the battleship "Maine" in Havana Harbor.
Mr. Kerr is a Republican in politics. He attends the Methodist Episcopal church.