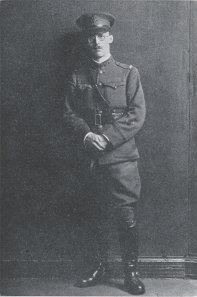 Portrait: Richard R. T. Furlong, M. D.
[View enlarged]
Dr. Richard R. T. Furlong, a practicing physician and surgeon with offices at No. 26 East Fulton street, has built up an excellent practice as a specialist in diseases of the eye, ear, nose and throat since he located in Gloversville in the spring of 1922. Dr. Furlong was exceptionally qualified for this line of work by education and experience and his success is the merited result of his skill and devotion to his profession. Born in New York city on Christmas Day, thirty-one years ago, he is the son of Richard and Alice (Turnbull) Furlong, natives of Long Island. His father is a contractor and a builder by occupation and for many years conducted his business in New York city. He now makes his home in Gloversville with his son.
Richard R. T. Furlong was reared and educated in New Rochelle, New York, where he was a student in the public and high schools, graduating from the latter in the class of 1911. He prepared for the profession of a physician at the New York Homeopathic Medical College, where he completed the course and obtained his M. D. degree in 1916. For the following year he was resident physician at the New York Ophthalmic Hospital, after which he started to practice in New York city. Shortly after the United States entered the World war, however, he abandoned his private practice to enlist in the Medical Corps of the United States army, receiving a commission as lieutenant. In August, 1917, he was sent overseas and at first was on duty at the Lewisham Military Hospital in London. Later he was transferred to France, where he was attached to the Thirty-first Division of the British army as surgeon to a battalion of infantry during 1918. In this connection he participated in the battles of the Somme and the Lys and was so severely wounded in the latter that he was invalided for six months. When he was able to make the voyage he was sent back to the United States and upon his complete recovery went on active duty again at Camp Dix, New Jersey. He was discharged from the army with the rank of captain when the staff was demobilized on the 1st of May, 1919.
Dr. Furlong went back to his practice in New York city after his long experience in the army and at the same time availed himself of the opportunity to continue his medical studies in the New York Ophthalmic College, a school devoted to the study of diseases of the eye, ear, nose and throat. In 1920 he graduated from the college. Shortly afterward Dr. Furlong accepted a position at Endicott, New York, as physician in charge of the eye, ear, nose and throat work for the Endicott-Johnson Corporation. He returned to private practice when in May, 1922, he came to Gloversville, where he opened an office as a specialist. In a comparatively short time he has built up a large practice and established himself as one of the progressive and competent medical men of the community. Dr. Furlong has neglected no opportunity to increase his knowledge of the profession he has chosen to follow. In addition to constant study and research on his own account he belongs to a number of professional associations, through which he comes into contact with other medical men and learns of the progress they are making in meeting baffling problems of the profession. Among these societies are: The New York State and Fulton County Medical Associations; American Institute of Homeopathy; New York State Homeopathic Society; and American Homeopathic, Ophthalmological, Otological and Laryngological Society.
In October, 1918, Dr. Furlong was married to Miss Veral Hadley, daughter of Wentworth and Patience (Newell) Hadley of Hazel Hill, Nova Scotia. Mrs. Furlong's parents were born in Hazel Hill and have lived there all their lives. The father is a farmer by occupation, is interested in the fishing industry, and holds the office of supervisor of highways. Dr. and Mrs. Furlong have one child: Richard Hadley Furlong, born in 1919. The religious affiliations of the family are with the Episcopal church. Dr. Furlong gives his support to the republican party in politics and is active in the American Legion, being at present vice commander of the local Post. His membership in the Phi Lambda and Phi Alpha Gamma fraternities dates from his college days and since coming to Gloversville he has joined the Eccentric Club.