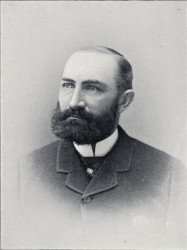 Portrait: William H. Baldwin
[View enlarged]
William H. Baldwin, New Baltimore, N. Y. — The Baldwins are of English descent. Their ancestors held the manor of Osterarsfee in Aylesbury, Buckinghamshire, in the time of Henry II. The owner of the manor in 1190 was Sylvester Baldwin, known as Aylesbury. In 1546 the manor of Dundridge, Aston-Clinton, four miles from Aylesbury, was added to the estate. In 1638 Sylvester Baldwin embarked for America in the ship "Martin," accompanied by his wife, two sons, Richard and John, and four daughters. He died during the passage, and his will was admitted to probate in Boston the same year. He left a large estate. His family settled in New Haven, Conn. His son John, after losing his wife and child, settled in New London in 1664. In 1672 John married again, and removed to Stonington. His son Theophilus married Priscilla Mason, grand-daughter of the famous Captain John Mason, who led the settlers against the Pequod Indians in 1637, and destroyed the tribe.
John Baldwin, son of Theophilus and Priscilla (Mason) Baldwin, married Eunice Spalding. Their son Ziba, born in 1752, was the great-grandfather of William H. Baldwin.
William H. Baldwin was married in 1874 to Kittie Van Bergen, daughter of John Van Bergen, of Coxsackie, N. Y. She died in 1876, the infant daughter Lizzie surviving her a few months.
In 1880 William H. Baldwin married Lillie Summers Jones, of Philadelphia. Mrs. Baldwin is a member of the Chester County Chapter of the D. A. R. Her ancestors were among the earliest settlers of Pennsylvania. Her great-grandfather, Colonel Jonathan Jones, served his country in the capacity of Captain, Major, Lieutenant-Colonel, and Colonel of the Continental army, being promoted after active service in the campaign in Canada in 1776.