This page conforms to the XHTML standard and uses style sheets. If your browser doesn't support these, you may not see the page as designed, but all the text is still accessible to you.
You are here: Home » Baseball » Baseball Advertising Trade Cards » Checklist of Sets: H 804-7A
[This information is from p. 26 of Baseball Advertising Trade Cards 3rd edition, copyright 2011 by Frank Keetz and is reproduced here with his permission. No part of this material may be reproduced for commercial purposes without the written consent of the author.]
Go back to: Contents | Index of Sets | Baseball in 1878 — Different Rules | Checklist of Sets: H 804-6 | ahead to: Checklist of Sets: H 804-7B
Merchant's Gargling Oil Series (3 - 1/4" x 5 - 1/4"; red belt, socks and hat with white uniform; Clay & Richmond, Buffalo, N.Y.; tan background with white bottom; also appear with different advertisements). Complete set: 5 cards.
A Close affair. Hugging the Bat.
Bravo! The Pet of the Nine
Something must be done! "Put it there!"
Struck Out.
The Hero of a Home Run. The Ladies Favorite.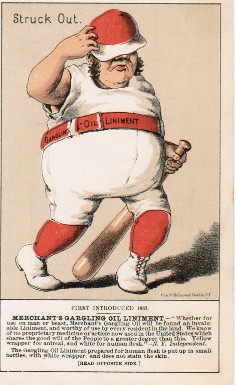 Go to top of page | back to: Contents | Index of Sets | Baseball in 1878 — Different Rules | Checklist of Sets: H 804-6 | ahead to: Checklist of Sets: H 804-7B
You are here: Home » Baseball » Baseball Advertising Trade Cards » Checklist of Sets: H 804-7A
http://www.schenectadyhistory.org/baseball/adcards/set_h804-7a.html updated April 7, 2015
Copyright 2015 Schenectady Digital History Archive — a service of the Schenectady County Public Library